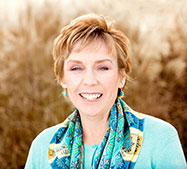 Introducing Dr. Tizzano
For more than 25 years, Dr. Germayne Tizzano, owner and founder of Views From a Tree House, Inc., has presented nationally and internationally on trauma, drug and alcohol addiction, sexuality and sexual health, body image, and mental health, in over 400 educational programs for health care professionals and university students. Her work spans a wide range of venues from women's addiction and recovery centers to community correction facilities for women, to HIV outreach programs, to American Indian Affairs to World Association for Sexual Health, Gothenburg, Sweden.
Dr. Tizzano provides tools and insight for healing and rebuilding lives. She demonstrates her commitment to the sexual rights and well-being of women through her speaking engagements, workshops, curricula, and articles.
In her training programs, Dr. Tizzano balances her professional approach to dealing with difficult and sensitive topics with her personal, exciting, and effervescent style. She creatively designs programs to move participants from cognition, to self-awareness, to direct application in working with women who struggle with trauma and substance abuse.
". . .The Sanctuary for Change curriculum was the most powerful group process that I had in the mental health program. When I ended it the members were very sad and one member insisted that she contact Germayne to let her know how much it helped her and possibly where else it might be offered. Since I ended it I still have members asking if I will offer it again and how they have used what they have learned in the group to apply it to their daily life. There were really great stories of no longer agreeing to engage in sex for monetary purposes and insight into their abuse and molestation."

". . .I followed the curriculum as it was written as much as possible and it really exceeded expectations given a population that included borderline personalities and a dual diagnosed population."

Joseph Lovecchio, LMHC
Director of Mental Health & Psychotherapist
Canarsie Aware Mental Health Program

". . .Your writing style is compelling, concise, clean and provides a clear picture of what it can look like if sexuality is not dealt with as part of the "healing" process. I would love to get this out to teenagers..."

– Cathryn Benedict
Stop Child Trafficking Now
"The session with Dr. Tizzano....
Was rich, insightful and exemplary of the process that fosters the construction of new knowledge."

– Deborah Wilcox, Ph.D. Confluency Consultants Multicultural Organizational Development Services
"First and foremost, Germayne Tizzano is an educator who provides safety and openness of mind and heart that allow her audiences to participate in the life-changing exercises and activities that she has designed, and which she tirelessly promotes. Her support and compassion for victims of sexual trauma are evident in her words and deeds; she lives what she teaches."

– Muge Galin, Ph.D
"I have had opportunity to read portions of her training manuals and to hear her speak on Women's Health issues. Her material is user friendly and she is passionate about making the world a safer and happier place for women. She is a role model for all of us."

– Barbara Dennison, Ph.D. president, owner, Dennison Associates, Inc.
"Germayne Boswell Tizzano is an entrepreneur with passion and vision. She is dedicated to supporting and helping heal women with histories of trauma and abuse. Dr. Tizzano demonstrates her commitment and tenacity through the years of creatively developing an innovative, empowerment-based curriculum which provides women with healthful sexual health choices. She continues to generously share her knowledge and expertise by presenting nationally on sexual health topics. I highly recommend Germayne Boswell Tizzano as competent and insightful professional committed to her life's work."

– Susan Stasiak, Performance Consultant, Stasiak & Associates
"I enjoyed coming to class. More insight on my boundaries. I learned being in class. We had fun, shared experiences, got new information. I even got tested for AIDS, syphilis, and hepatitis because I was inspired to find out about my health and to maintain myself safe and healthy."

– workshop participant
"Discussing sexual health is provocative but necessary. It is better for emotions and confusion to be stirred up in a safe, supportive environment, where women have an opportunity to process the experience and frame it in a learning context, rather than in another setting. This safety and openness may be the key to eventual behavioral changes for the participants."

– Lori Criss,
Operations Director at Amethyst
"Germayne Tizzano's curriculum, Sanctuary for Change, is well researched, well-developed, well-written, and appropriate to its target audiences, women with histories of sexual trauma and substance abuse and the people who work with them.

Germayne, herself, is a knowledgeable and skilled teacher and presenter with a skills base that far exceeds the parameters of her written curriculum. She is well-versed in mental health, trauma, and substance abuse issues; and is able to communicate sometimes difficult material gently, but in a well-informed and professional manner. She is creative and imaginative, and integrates these qualities into her workshops and presentations. A multi-cultural perspective is a valuable part of her presentations. No one leaves Dr. Tizzano's workshops and trainings without examining their "old thinking" differently.

Germayne Tizzano, Ph.D. and "A Sanctuary for Change" would be welcome and highly assistive additions to training for women who have issues related to sexual trauma, and substance abuse, and for the professional and paraprofessional staff who help them heal."

– Mary Lee Stocks, LISW
Dr. Tizzano is uniquely qualified to present trainings that speak to the heart of the participants' passion for women who have survived treacherous life situations and have become disenfranchised. Having lived through and been in active sexual trauma recovery herself, Ms. Tizzano is sensitive to the challenges of women impacted by abuse. She values the gifts of sacred healing, renewal, and transformation offered by professionals who serve women.