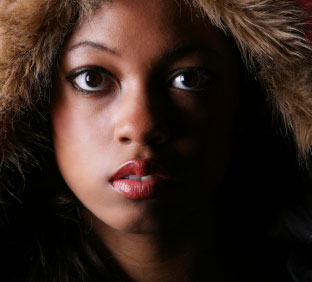 Justine
Hi. I'm Justine.
Not too long ago I was alone and sad. I knew that a lot of change needed to happen before I could live healthy again. Just didn't know how to get there.
I was a mess for a long time, using drugs and everything, and I felt so guilty about who I was. I got pushed around a lot, and didn't think I was worth anything. I hated it, but I kept going back to the drugs and to unsafe relationships. No matter how hard I tried, I couldn't shake it for long. I ended up completely out of control of my own life, lost in pain, confusion, and self-hatred deeper than I could handle.
A friend got me involved in Sanctuary for Change at my treatment center. This program helps people like me who haven't had good relationships. It was amazing to share with women who had similar struggles to mine. I learned new ways of thinking about myself that completely changed how I live. I especially learned about my sexuality.
I learned that I could make safe choices for myself. Pay attention to my body and my emotions. Stay away from situations that don't make me feel safe, and let myself be in relationships that are healthy for me. I don't feel like I'm not worth anything anymore. I understand how to treat myself well. It's still hard a lot of times, but I wake up in the mornings knowing that I don't have to be stuck in the way I used to live anymore.
I hope you can grow too from this program. It's an important step toward living a healthy life. It doesn't fix everything, but it teaches you to make good choices and understand yourself so that you can live more fully and more free from fear and confusion.
– Justine