Untold Stories – The Right to Healthy Sexuality
The Untold Stories of Letticia, Nina, Justine, and Penelope are meant to honor all women who have been impacted by trauma and substance abuse and who are earnestly trying to find a different path…a different journey to heal and discover who they authentically and by birthright were born to be.
Young women with histories of abuse frequently use substances to cope with the stress of traumatic event(s). And since usage begins at an early age, developmentally, Justine, Penelope and others like them do not cultivate knowledge of their sexuality, personal choices, values, and/or beliefs. Their self-image as worthy people deserving of respect and recognition is often crippled by trauma and addiction.
Their Untold Stories illustrate the importance of providing sexually exploited women safe opportunities with peers and counselors to share their stories, discuss their past sexual histories, and discover within themselves avenues to personal health and safety. It bridges the gap between sexuality and recovery and enhances their ability to remain sober.
So I invite you to meet four women whose lives are different yet share in the survival to overcome abuse, trauma, and addiction: Letticia, Nina, Justine and Penelope. Learn about their struggles and their desires to have healthy, non-exploitative and non-coercive sexual and intimate relationships. Their journey to sexual health and wellness can begin. We can provide all women who desire to change; the chance to embrace their sexual lives healthfully.
Germayne B. Tizzano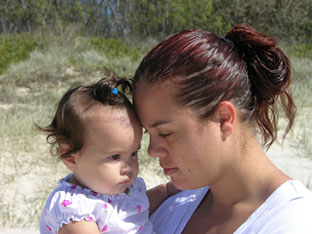 Letticia and Her Daughter Emilianna:
"I Don't Want to Lose Her. . ."
A Women's Struggle to Regain Self, Body, and Child
It's 4pm. I'm waiting for my boyfriend. He was supposed to show up almost an hour ago, but that's Alirio for you—always late. I'm sitting here, looking at the other customers streaming in and out, with their drinks and burgers, wondering why I didn't just go to his house. We never hang out in places like this. My counselor and I decided I shouldn't be alone with him, though, since this is my first time back since I started treatment. Read more ….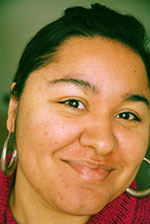 Nina. . .
Struggling as a Native American Woman
Hi, my name is Nina. I'm 28 years old; I live in a little town called Rusty Creek, South Dakota. I have three kids, a cat and two dogs. My sister and I live with our mom so she can watch our kids while we work. My grandmother lives with us too
Being a waitress at a diner in a dump of a town like this one doesn't leave any money for child care —- or much of anything else, for that matter. With what my sister and I bring home, free school lunches for all but one of the kids and a box of groceries from a church food pantry now and then, we still barely get by. I think the taxman said that last year I made about $9,500 and my sister made a little less. That's not a lot to get food and clothes and put a roof over the heads of 4 adults and 5 kids. I wish things were different, but it is what it is. Read more ….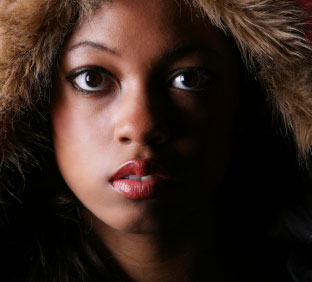 Justine
Hi. I'm Justine.
Not too long ago I was alone and sad. I knew that a lot of change needed to happen before I could live healthy again. Just didn't know how to get there.
I was a mess for a long time, using drugs and everything, and I felt so guilty about who I was. I got pushed around a lot, and didn't think I was worth anything. I hated it, but I kept going back to the drugs and to unsafe relationships. No matter how hard I tried, I couldn't shake it for long. I ended up completely out of control of my own life, lost in pain, confusion, and self-hatred deeper than I could handle.
A friend got me involved in Sanctuary for Change at my treatment center. This program helps people like me who haven't had good relationships. It was amazing to share with women who had similar struggles to mine. I learned new ways of thinking about myself that completely changed how I live. I especially learned about my sexuality. Read more ….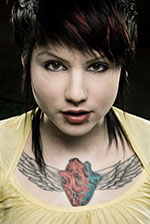 Hi. I'm Pinkie
I'm sitting on my bed in my room. Not my real room, but the one they assigned me. It's not much different from the other rooms here, except that the shower curtain's purple instead of blue like the rest, from which I figure that someone musta ripped the old one, whoever lived here last. That, and the paper by the door that's got my name on it, Penelope O'Conner, in big, black letters.
I've been here three days now. Shit. Three days, and Jake's gonna be coming to look for me, sure as heck. Last time I was gone this long, he beat the hell out of me.
I never expected I'd ever be in a treatment center for drugs. That was something that happened to other people, girls who got with the wrong guy and didn't know well enough to get away. Sure, Jake hits me a lot, but he takes care of me, makes sure I'm safe. I don't know where else I'd go without him. Read more ….