Naked in the Truth I Cannot Reveal
By Germayne B. Tizzano, Ph.D.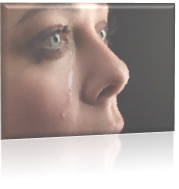 I am so lost. I can't talk with my counselor about the rape. I am feeling sick to my stomach and want to hurt myself. I feel dirty. Ashamed. Naked in the truth I cannot reveal."
Out of fear of judgment, survivors do not easily volunteer information to their counselor about past sexual assault(s). According to a study in Scotland, victims report that they are far more likely to share past violations when asked by their therapist, especially one who demonstrates warmth, empathy, and unconditional regard.
In this same study, therapists report discomfort in inquiring about past sexual victimization for fear of opening a can of worms or being unprepared to deal with disclosures.
A strong disconnect exists. Survivors need to be able to talk about the sexual atrocities that have occurred in their lives. Therapists need support and clarity on ways to facilitate sexual healing for women ostracized and marginalized in their pain.
For the therapist, the first step is to gain an appreciation of one's own sexual values and the potential impact on the clinical process. A tool, Your Sexual Journey Through Time, can provide you a look at your unique history. How have your experiences (good, bad or indifferent) shaped your views on your competency as a sexual person, your image of your body, your fears or capabilities regarding intimacy, or your internalized beliefs about women, men, and gender identity? This is a tool that not only provides you with insights for discovery and healing; it is a resource that can be offered to the women you serve.
Women warrant a safe, trusting place to share their story. You can offer a gift in their life. You can become their compassionate witness – without judgment and thereby offer them a deepened understanding of their truth. You are in the place to present that.
Begin the journey with yourself, see what is revealed, and discover how much you, us, we can help each other to be empowered to live without fear, and to live with the hope that life can be different.

© Copyright 2018. Views From A TreeHouse, Inc. All Rights Reserved.