Workshops Currently Offered by Germayne Tizzano, Ph.D.: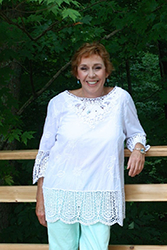 Dr. Tizzano's workshops are relaxed, enjoyable, and highly interactive, providing stimulating information and strategies to address the professional and personal challenges facing today's health service workers. Workshops currently include:
Sexual health for women in recovery is crucial to the prevention of relapse and a sustained quality of living. Of all substance-abusing women, 75% have a history of childhood sexual and/or physical abuse. Women with histories of abuse are far more likely to engage in unsafe sex practices, have multiple sex partners, exchange sex for money or drugs, and be addicted to alcohol and drugs.
This workshop examines the importance of addressing women's sexuality while they are in treatment. The why's and how's behind risky sexual behavior, red flag indicators of trauma, what we know about women, sexuality, addiction, and recovery, as well as barriers that get in the way of healthy sexual choices will be presented.
Women with unresolved sexual trauma comprise a large percentage of the women in substance abuse programs. This workshop will advance the professional's ability to work with survivors of sexual trauma. Through a psycho-educational approach, participants will learn strategies to assess and create a sex positive approach to serving women impacted by abuse.
Women's sexuality is integral to the clinical process. Substance abuse, intimate partner violence, compulsive eating, and other self-destructive patterns of living often have sexuality as a key component.
The life-threatening perils associated with domestic and sexual violence for women charged with the care of their children are dire. Of women in abusive relationships, 40 – 45% will be sexually violated during the time of their relationship and are known to be at much higher risk for homicide. Depression, anxiety, posttraumatic stress disorder, and self-destructive patterns of livings such as substance abuse, eating disorders, and cutting are known risk factors associated with sexual violence and trauma.
This workshop will examine the unique challenges facing women in recovery from alcoholism. With the trajectory to alcoholism shorter than with men and the medical consequences potentially more severe, it is important to understand fully the impact of alcohol addiction on women.
This workshop will examine the impact of media, personal experiences, and messages received by others as factors influencing body image – perceptions of external selves. Distortions of the body's shape, size and overall looks can result in emotional distress, lowered self-esteem, rebound dieting, and eating disorders. Mental health care professionals can provide support and affirmation to clients impacted by the negative impact of society's messages and unrealistic expectations. Through this session, participants will be provided educational strategies and knowledge for working with clients to improve body image and awareness.
Through a learning climate of trust and high energy, participants of this workshop will explore personal strengths and aptitudes essential to effective communications with clients. Understanding and application of the elements of resistance, change, and conflict resolution will be explored through a series of exercises.
Tools for Understanding and Managing Stress
The rules of work are similar to the rules of the sandbox — show respect, be kind, and share with others. Yet, in the world of work, following these guidelines does not always guarantee joy and harmony. This workshop will examine the work culture and how unmet expectations and reality clash to create undue stress and turmoil.
(
Please Don't Tell Me To Drink Carrot Juice

): A Health Awareness Program for True Skeptics

The key to understanding one's personal journey to health lies in discovering the internal compass that guides all of us towards playfulness and rejuvenation. We ALL have the power to live life to the fullest, NOT to be defined by cultural standards, but rather by OUR OWN STANDARDS.

This workshop gives you the opportunity to stretch the contours of your thinking and release (within safe limits) inhibitions, which block change. Come and sample a potpourri of media: music, art, play, and relaxation and in doing so, define your own standards and practices for healthful living. You then can make the CHOICE to LIVE BY THEM.

This workshop will examine personal lifestyle patterns that enhance or diminish personal capacity to manage life stressors. Strategies, i.e., relaxation, laughter, and play, aimed at enhancing one's quality of life will be defined. A personal plan of action will be developed.

Sexuality, a vital part of women's identities, is often overlooked in the clinical process. In treating all women, regardless of the "presenting issue," clinician awareness and understanding of the core sense of the female self as a sexual being, is essential to the holistic healing process for all women.

Learn the truths about sexuality for women – what key factors can interfere with intimacy, feelings of powerlessness, and disconnection of one's body from pleasure and joy. Through this workshop, you will have the chance to clarify your destiny for healthy, joyous, and fulfilling sexuality. You will explore and gain an appreciation of your experiences, values, and attitudes that have shaped you as a sexual person. Come to this workshop and celebrate a vision of new and positive ways to embrace your sensual self.

A Chance to Recharge and Connect Your Passions, Strengths, and Power
For information on scheduling any of these workshops, contact us at Views From A Tree House, Inc., today.